Brothers Schrammel
A small excurse to one the most famous traditional musical groups of Vienna: The brothers Schrammel, namely Josef and Johann Schrammel played with Georg Daenzer and Anton Strohmayer. The quartett consisted of 2 violins, one contra-guitar and a G-clarinet. Some songs: Johann Schrammel: Frisch gewagt (polka), Josef Schrammel: Der Weana is' all'weil leger (song), Nu▀dorfer Marsch, Sei wieder guat (polka mazur), Bei guter Laune (polka franc.), Antoinetten-Polka and many more.
Interesting restaurants: Poetzleinsdorf and Neustift in the 18th district Waehring (wine-patent goes back to emperor Friedrich III). The best known Heuriger was there the Strasser. In Nussdorf was a Heuriger known through the Schrammel-music: the Greiner at the Kahlenbergerstrasse. However the Schrammel-music is connected with the establishment "Zur gueldenen Waldschnepfe" in Dornbach. Even Johannes Brahms listened here to the music of the Schrammeln.
It started in the Viennese inner city at the Fiacre-pub "Zum roten Dachl" (To the red roof) at the Mehlmarkt (flour-market, today Hoher Markt), where the brothers Schrammel already at the age of 9 and 11 years played music. This was a meeting-place for fiacre and singers.
Today
In Vienna there are about 400 wine-farmers. Wine grows on about 750 ha. Already the Romans planted wine here. By the way, the high whitewine-glasses with cup-shaped top are called Romans (german Roemer).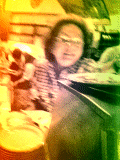 About 90% of the 20.000 - 25.000 hectolitre in Vienna produced wine are poured out in Vienna at the Heuriger. Usually the wine is poured out in glaziers to 1/4 liters ("Vierterl"). It can be thinned also with mineral water ("G'spritzter").
Viennese wine
In Vienna usually there are planted following sorts: Riesling, Burgunder (Weissburgunder, Rulaender, Chardonnay) and clarets. They have an alcoholic content of at least 12% and are dry to halfdry. The bottling is done in Bouteille's with 0,75 litres or so-called Doppler with a content of 2 litres. A bottling in plastic is to be marked as taboo / disguisting.
---

Home - Vienna - Photos - Music - Traveltips - Tours - Boattrip - Coffeehouse - Heuriger/Wine - Links - Search - About