Other help at Vienna
In Vienna after the war there was a national emergency. The electricity -, gas - and water supply was destroyed. The logistics of the City of Vienna has been affected too, the city had solely 41 transport vehicles at the end of the war.
Food simply was not available, so the survival of Viennese citizen depended on foreign help. The rising of the infant mortality after the war (in July 1945 389 from thousand living born babies) shows the large needs. The four Allieds (Americans, Brits, French and Soviets) helped the city of Vienna with foods. The infant mortality (in February 1946 135 from thousand living born children) was reduced.
View from the university to Votiv-church 1945.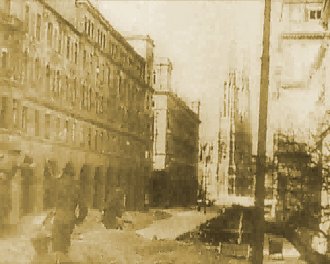 ---

Home - Vienna - Photos - Music - Traveltips - Tours - Boattrip - Coffeehouse - Heuriger/Wine - Links - Search - About