Shortly about Johann Strauss senior's life

Johann Baptist Strauss sr. was born on March 14, 1804 in Vienna, Leopoldstadt. He grow up with his sister as son of a beer landlord in a small restaurant at the Danube channel. Boatmen from different countries came here, who made folklore music. His mother died in 1811 and the father was found as a water corpse in the Danube in 1816. Possibly suicide due to insolvency. Johann Strauss sr. was trained to bookbinder until 1822. And additionally he learned to play violin.
He bacame a member of the well-known orchestra of Michael Pamer and became acquainted to the 3 years older violonist Joseph Lanner. As Joseph Lanner formed his own orchestra consisting of three musicians Johann Strauss sr. also became a member, he played the Viola. The quartet played at Viennese restaurants, the "Rebhuhn", a restaurant frequntly visited by Franz Schubert. Lanner had many engagements and so he was able to increase his group to a small dance orchestra (1825).
Johann Strauss sr. separated from Lanner to found his own orchestra. At the beginning of of 1825 it requested a passport to be able to work in Austrian/Hungarian lands.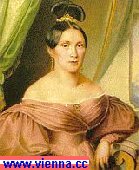 His friend Anna Streim became pregnant and Johann Strauss sr. married her over-hasty on July 11, 1825. On October 25, 1825 Johann Strauss jun. was born.
In February 1827 the publishing house Diabelli published the work "Doeblinger Reunion Walzer". In May 1827 the "Wiener Zeitung" (official Viennese newspaper) announced for the first time a concert with Johann Strauss sr. with his own orchestra. Engagements followed, e.g. the afternoon show in the coffee house Wagner in the Prater (Vienna), afternoon show in Augarten, evening show at the Sperl, afternoon show at the Dommayer and others.
1833 the family Strauss went on concert journey to Pest (Hungary), today to part of Budapest. Afterwards the Strauss ' moved to the house called "Hirschhaus" (deer house) in Leopoldstadt (Vienna), one whole floor with seperated working rooms for the composer.
1834 Strauss became a leader of the first citizen regiment and directed military pageants. In November 1834 Johann Strauss sr. went with thirty musicians on a concert journey to Berlin, where he played even in the prince palace before the king of Prussia and the Russian Tsar. Then he went to Leipzig, to Dresden (he played at the Saxonian court) and to Prague. The tour was a full success.
In March 1835 the sixth child was born. But in May 1835 the 21-year old modist Emilie Trambusch gave birth to a daughter, whose father Johann Strauss sr. was. Six children followed further. The relationship with Anna in the meantime was in deep crises, however the Strauss' lived furtheron (until 1846) in the Hirschhaus (deer house).

Strauss toured with his orchestra in Germany, Holland and Belgium; everywhere with enormous success. In October 1837 a 14-month concert tour started to Paris, Belgium, Holland and London, where he played for queen Victoria. Weakened of the strains he broke down during a concert in Calais. After his return to Vienna he broke down on stage again and from now on he only played in Vienna.
Against the will of Johann Strauss sr. his son Johann Strauss jun. secretly with support of his mother started learning to play the violin. Anna submitted divorce. After Johann Strauss jun. played his first concert on October 15, 1844, there were two Strauss orchestras playing in Vienna. Strauss jun. was not a competition for Strauss sr., Strauss jun.'s initial successes did not last. Likewise the clientele was different: While Strauss jun. played for revolutionary groups in the upcoming revolution (1848), Strauss sr. played before emperor-faithful comrades. Strauss sr. wrote the march "Radetzky Marsch" ("Radetzky-March") in honours of field marshal Radetzky and its victory over the Italians 1848. In March 1849 Johann Strauss sr. toured in Germany and was insulted as a reactionary by students. In London Strauss met Metternich, who escaped from Germany in 1848 and now lived in London in exile.
On September 25, 1849 Johann Strauss sr. died on scarlet fever. Violent hereditary disputes with Emilie Trambusch and their children with Johann Strauss sr. started, Anna's children only should receive the obligation part. Johann Strauss jun. should take over the leadership of his father's orchestra.
---

Home - Vienna - Photos - Music - Traveltips - Tours - Boattrip - Coffeehouse - Heuriger/Wine - Links - Search - About