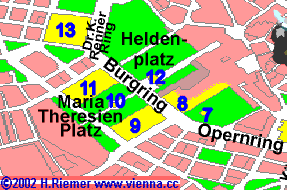 Click on the photos to see a full view of the picture inclusive description.
We go along the Opernring, we pass the monuments of Johann Wolfgang Goethe (right, to the city) and Friedrich Schiller (left, opposite). Behind Goethe-monument we see the park called Burggarten
We enter to visit the monument of Wolfgang Amadeus Mozart (7).
The grave of this famous composer unfortunately is unknown.
Now we come to Burgring. Right there are the walls of Hofburg (8). Left there is the arthistorical museum (9)
Opposite in the middle of the parj there is the monument of Maria Theresia (10)
at square Maria Theresia Platz,
Right there is the naturalhistorical museum (11).
We then have a short look in direction to the city and see the Burgtor or heroe's monument (12).
[ <- Back ] [ <-- Retour ] [ Next -> ]
---

Home - Vienna - Photos - Music - Traveltips - Tours - Boattrip - Coffeehouse - Heuriger/Wine - Links - Search - About