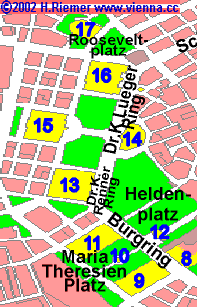 Click on the photos to see a full view of the picture inclusive description.
We walk along the Burgring and come to Dr.Karl Renner Ring. At the beginning of this art of the Ringstrasse there is left the parliament (13),
right there is a park called Volksgarten. Behind the parliament on the left we see the green of the townhall-park (Rathaus Park). We go along the Dr.Karl Lueger Ring and see right the theatre Burgtheater (14).
Opposite of Burgtheater there is the square Rathausplatz with the townhall (Rathaus) (15).
We continue our walk, pass the coffeehouse Cafe Landtmann on the right and see the university (16)
and opposite there is the monument of Johann Andreas von Liebenberg.

We continue and come to the square Rooseveltplatz. There we see the church Votivkirche (17).
[ <- Back ] [ <-- Retour ] [ Next -> ]
---

Home - Vienna - Photos - Music - Traveltips - Tours - Boattrip - Coffeehouse - Heuriger/Wine - Links - Search - About