Intemperate drinking and underground - Lapse in morass of prostitution and booze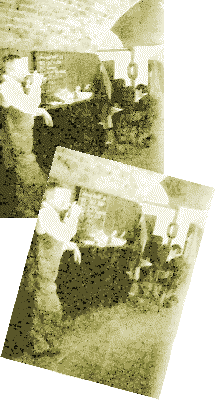 The wine-growing was pursued mainly by the convents. The oldest wine-cellar, Seitzerkeller (in the house of the widow Haug, in the property of founded Kartause Mauerbauch founded by Friedrich the Beauty, then under Albrecht II to the "house to the pipes next the long cellar"), was in the Dorotheergasse since 1327, which was called Verberstrasse earlier. In the year 1833 Josef Daum and Leopold Grader rented the cellar and installed a concerthall, a dance floor and dining rooms for 10.000 people.

The inner city already in the 13th century multilevel provided with cellars. There the wine-cellars were housed, the floor was dry and load-carrying. The homeowners not always have been owners of the cellars under their house.

The bar of wine soon was a flourishing underground business, which got into discredit through the escalating prostitution. Even 1403 the municipal administration retired the authorization of wine business (Weinmeisterei). The prostitution was not abolished. Moreover citizens and later even the municipal administration were in property of brothels. Even a prohibition of prostitution by Ferdinand I. had no result, the ladies were working underground or on the bastions (forts at the city wall). In the so-called Batzenhäuschen on the bastions the soldiers of the City-guard had good business with wine trade and prostitution. 1741 this City-guard was dissolved by the Viennese municipal administration. The ladies were working in wine restaurants, as waitress and harlot, what was forbidden with January 15, 1572. Today there are no original wine restaurants in the city anymore.
---
---

Home - Vienna - Photos - Music - Traveltips - Tours - Boattrip - Coffeehouse - Heuriger/Wine - Links - Search - About