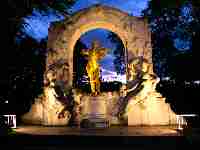 Pizzicato-Polka
This Polka (Op. 449) Johann (Sohn) and Joseph Strauss (he wrote the middle-part) was written in the year 1869. It was first performed at Pavillon Vauxhall in Pawlowsk (Russia). This Polka francaise was named Piizzicato-Polka because of the plucking the viola-strings (pizzicato). At this time a good name for works was necessary for marketing. "Polka" only was not enough. Works are named after persons or events, the Pizzicato-polka is an exception to the rule.
In the ViennaCC-version - and that is the special - You can hear besides musical phrases some handclaps, clinking glasses, letting off the cork and the rushing when pouring champaign. The sounds bring in more easy-life-feeling.
Pizzicato-Polka
Diese Polka (Op. 449) komponierten Johann (Sohn) und Joseph Strauss (er schrieb den Mittelteil) im Jahr 1869. Die Uraufführung fand im Pavillon Vauxhall in Pawlowsk statt. Diese Polka francaise erhielt den Namen wegen der Meldodieführung durch gezupfte Violinen (Pizzicato). In der damaligen Zeit sollte durch einprägsame Namen die Vermarktung gefördert werden, eine Angabe der Gattung (Polka) und des Opus war längst nicht mehr ausreichend. Meist hatten die Werke einen Bezug zu einem Anlaß oder einer Person, die Namensgebung der Pizzicato-Polka bildet mit einem musikalischem Bezug eine Ausnahme.
Bei der ViennaCC-Version - und das ist das Besondere bei dieser Fassung - hört man neben musikalischen Spielereien auch Mitklatschen, Weingläser anstossen, Sekt-Korken knallen und das Rauschen des perlenden Schaumweins beim Einschenken. Diese Geräusche unterstreichen noch das Leichtlebige und Beschwingte.