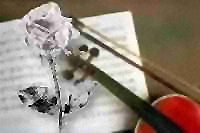 Waltz from Der Rosenkavalier
Richard Strauss wrote the opera Der Rosenkavalier (Op.59) about the marriage-plan, defeated by Octavian, of baron Ochs auf Lerchenau in the year 1910. The difference to Johann Strauss' waltzes is the second note out of three, accented by Johann Strauss but not accented by Richard Strauss. Richard Strauss was not a Viennese composer, he was born on June 11, 1864 in Munich and died on September 8, 1949 in Garmisch-Partenkirchen. He is no relative to the Viennese waltz-dynasty. The opera was first performed on January 26, 1911 at Hofoper in Dresden. Not related to Vienna? Oh, sure! I decided to record this waltz because the story is located in Vienna 1740 - 1745, Kaiserin Maria Theresia's time. My interpretation of the waltz sounds more relaxed and simpler than original. You could even swing with it...
Walzer aus Der Rosenkavalier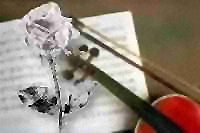 Richard Strauss schrieb die Oper Der Rosenkavalier (Op.59) um die von Octavian schlußendlich vereitelten Heiratspläne des Baron Ochs auf Lerchenau im Jahr 1910. Der Unterschied zu Johann Strauss' Walzern besteht darin, daß der Wiener Walzerkönig die zweite Note betont hat, was bei Richard Strauss nicht geschieht. Richard Strauss war ja kein Wiener, sondern wurde am 11.Juni 1864 in München geboren und ist am 8.September 1949 in Garmisch-Partenkirchen gestorben. Auch ist er nicht verwandt mit der bekannten Wiener Walzer-Dynastie Strauss. Die Uraufführung fand am 26.Jänner 1911 an der Hofoper in Dresden statt. Kein Wien-Bezug? Oh, doch! Ich habe mich für diesen Walzer entschieden, weil die Handlung im Wien der Jahre 1740-1745 spielt, also in den ersten Jahren der Regierung Maria Theresia und weil ein Walzer sowieso zu Wien paßt. Die Walzersequenz in meiner Interpretation klingt gemütlicher und einfacher als das orchestrale Original. Man könnte sogar mitschunkeln.