Places of Vienna worth seeing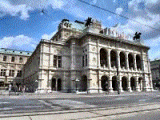 Find many photos of the city of Vienna (Vena, Wien, Vieena) and read history around these places - Impressions of Vienna in Vienna photos - Vienna photographs of the skylines, the cityscape, some of the rooftops, of the streets, the bildings with emperor's charmes of Kaiser-time, Vienna's world skyscrapers, panoramic fhotos. This is Vienna online for tourists and visitors.
The Vienna photos are grouped by theme, click on the links. The link to the directory of all pictures is at the end of the table (big list, be patient while loading).
Places worth seeing

Inner city
Albertina
Old Danube
At Hoher Markt
At Hoher Markt
The Arsenal
Park Augarten
Church Augustiner
Nostalgia
Suburban area
Ballhausplatz
The Freyung
Castle Belvedere
Stock exchange Vienna
Botanical garden
Vienna"s smallest house
Old castle (alte Hofburg)
Park Burggarten
Theatre Burgtheater
Square Heldenplatz
Christmas market Old Vienna
Christmas market at castle Schoenbrunn
Christmas market
Monument
River Danube
River Danube
Danube-channel (Donaukanal)
Neuer Markt
Archiepiscopal palais
Fernwaerme Wien
Palace Ferstel
Fiacre
Small market Flohmarkt
Museum of Medieval legal history
Old castle (alte Hofburg)
The Freyung
Gloriette at park Schoenbrunn
The Graben
Griechenbeisl
Grinzing
Haas-house
Vienna woods
House of the sea
Square Heldenplatz
Heldentor at Square Heldenplatz
Villa Hermes
Heuriger
Hoehenstrasse
Square Am Hof
Square Heldenplatz
Bohemian Royal Chancellery (Boehmische Hofkanzlei)
At Hoher Markt
KunstHaus Wien (House by Hundertwasser)
Old castle (alte Hofburg)
Arc-walk
Square Josefsplatz
Street Kaerntnerstrasse
Coffeehouse
Mountain Kahlenberg
Church Kapuzinerkirche
Square Karlsplatz / Karlskirche
Arthistorical museum
Palace Kinsky
Street Kohlmarkt
Kursalon
Zoo Lainzer Tiergarten
Liebenberg-monument
Liebenberg-monument
Church Malteserkirche
Church Maria Huelf
Square Mexikoplatz
Church Michaelerkirche
Square Michaelerplatz
Military-parade
Millenium-Tower
Church Minoritenkirche
Museum of the City of Vienna
Streetmusic
Musikverein
The Naglergasse
Monument Napoleonstone
Market Naschmarkt
Naturalhistorical museum
Danube channel
Palace Lobkowitz
Palm-house (Palmenhaus)
Panorama-views
Parliament
Church Peterskirche
Prater
(New) Townhall (Rathaus)
Old townhall
Relax
Big wheel (Riesenrad)
Rossauer barracks
Church St.Ruprecht (Rupert's church)
Hotel Sacher
Schoenbrunn
House of butterflies
Palace Schoenbrunn
Vienna music Schrammeln
Square Schwarzenbergplatz
Secession
Imperial silver collection
Souvenirs
Spinner at the cross
Spittelberg
Stateopera
Park Stadtpark
The Stallburg
Lane Steindlgasse
St.Stephan's Cathedral
Square Stock im Eisen-Platz
Monument Johann Strauss
Synagogue at the Judengasse
Vienna Zoo
Vienna University
UNO-City
Virgil-chapel
Roman ruins
Theatre Volkstheater
Suburban area
Church Votivkirche
Coachmuseum at Palace Schoenbrunn
Traditional Streetmusician
Railway station Westbahnhof
Public transportation
Vienna woods
Central Cemetery Zentralfriedhof

Most visited places

1 Castle Schoenbrunn
2 Zoo Schoenbrunn
3 Hofburg
4 Ferry Wheel
5 Arthistorical Museum
6 Castle Belvedere
7 Albertina
8 Danube Tower
9 Natural Historic Museum
10 KunstHaus Wien
To visit the directory of all pictures click here (big file, so be patient while loading)